Washer Temperature Control Formula Function Of Clothing &Machines
Views: 86 Author: Site Editor Publish Time: 2018-11-10 Origin: Site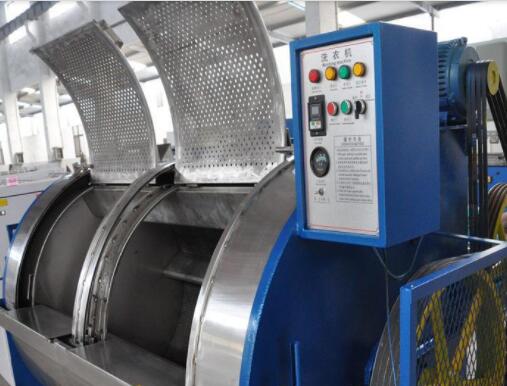 Resolve the problem that frequent modification of washers' temperature parameters in washing different cloths.
一、summary
In order to resolve the problem that frequent modification of washers' temperature parameters in washing different cloths, the new generation of digital configuration intelligent temperature controller GR818 series is put forward, which has proved to be effective alleviate the problem of temperature parameters' frequent changes, lower the error rate of parameter setting and ensure the quality of washing process.
二、application background
Taking steam heating washer with six tanks as an example, its control unit includes mainframe steam heating system, mainframe governing system, pull roller control system, cylinder drying control system, etc. Its working process is described as follows: once six tanks reached setting temperature heated by steam, cloth would be driven by the main shaft and went through washing process through 6 tanks under the traction of pull roller. After washing process cloth finish drying and wrap up by cylinder drying. Above mentioned process temperature control system is of great importance because different cloth's washing demands corresponding temperature parameter, temperature parameter setting and system control's precision can directly influence the quality of product. The most common washer temperature control system consists of RTD sensors, temperature control instruments, solenoid valve, steam tunnel, and so on. The most common problems are error setting of temperature control parameters and cost too much time to set temperature control parameters. The occurrence of above mentioned problems often causes unstable temperature control, incomplete rinsing process and lower work efficiency.
三、solution
The application of GT8 series' parameters setting function can be an effective solution to above mentioned problems. Its system framework is described as follows:
Compared with conventional system, the application of above mentioned solution's advantages are:
First, Different temperature control parameters for different cloths can be stored. When process the same cloth, you do not need to do adjustment. This method evades the occurrence of errors in the process of altering parameters and reducing the operation time.
四、hardware configuration
GT8系统
Configuration temperature controller GT8
五、conclusion
This solution has achieved expected effect in this washer system and improved this system's stability. This system has been running well after its being put into operation. It has been applied on a number of production lines, which improves production efficiency and brings great convenience to users.