TUNNEL OVEN OF FOOD &MACHINERY
Views: 75 Author: Site Editor Publish Time: 2017-12-10 Origin: Site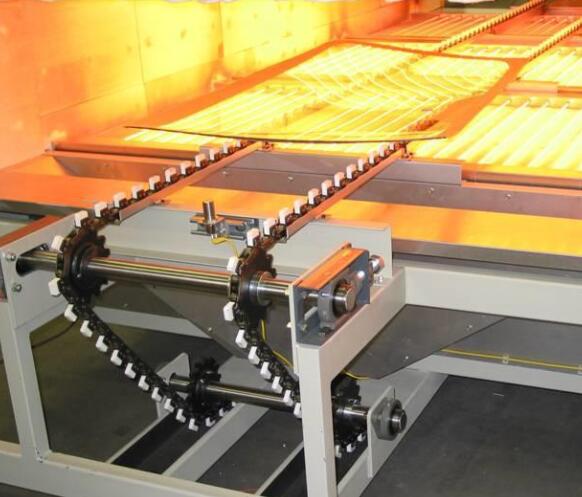 Resolve the problem that modification of tunnel oven temperature control
一、abstract
In order to solve temperature controllers have complex installation, complicated operation and difficult maintenance problem in application of tunnel oven equipment. We propose to use HPE series multichannel temperature controller. The result turns out that meet the requirement of temperature control and can solve above problems at the same time. Also promote products quality, working efficiency and guarantee productivity effect.
二、 application background
For example as tunnel sterilization oven, its working process is described as follows: use conveyer belt to transport bottles into preheating zone of tunnel sterilization oven, high temperature sterilization zone and low temperature cooling zone in turn. The speed of conveyer belt cannot be changed and under protection of one-hundred-grade laminar flow.
Tunnel sterilization oven mainly consists of conveyor system and drying oven. Oven adopts sectional type heating, multistage-independent PID temperature control and stable furnace temperature.
Most tunnel sterilization oven temperature control system consists of RTD sensor, temperature controller and heater.
The most common problems are as follows:
Waste plenty of time to install, maintain and wire large amounts of temperature controllers.
Full-aspects temperature monitoring is failure, slow real-time information response.
The occurrence of above mentioned problems often causes wasting time of installing and maintaining, reduce working efficiency, waste product resources and lower productivity effect.
三、solution
The application of HPE series one module with up to 8channel independent temperature control and communication function can be effective solutions to above mentioned problems. Its system framework is described as follow:
Compared with conventional system, the application of above mentioned solution's advantages are:
HPE Series temperature module has eight-channel independent PID temperature control, small dimension, wiring and installation easily. Save time to maintain breakdown, promote productivity effect, touch panel connect with module communication and transformed into systemization. Users can monitor and change parameters and temperature, or other real-time information in touch panel.
四、 hardware configuration
HPE series multichannel temperature module
Winpark 4.3inch touch panel
五、
This solution has achieved expected effect in this tunnel sterilization oven system and improved this system's stability. This system has been running well after its being put into operation. It has been applied on a number of production lines, which improves production efficiency and brings great convenience to users.